I know I have been doing a lot of these lately but I love to share what I have been working on!
I am only featuring one blog design today and it has been a month in the making.
I really love designing for family and friends, it allows me to add in a personal knowledge of the person and infuse it into their design!
Whitney has been a family friend for as long as I can remember. She holds bestie status with my sister, Megan, and has grown to be a close friend of mine as well!
When Whit expressed a desire to start a food and lifestyle blog Megan and I gave her the peer pressure push necessary to get her started.
Step 1: A FABULOUS design!
After a Blog name was decided upon over pre-Christmas drinks I instantly came up with a vision! Whitney chose the Autumn Brights color palette from Design-Seeds, and everything came together from there!
I couldn't be happier with the finished product and really think this design just screams, "Whitney"! It's bright, feminine, and clean. I hope it serves as the perfect backdrop to her mouth-watering recipes and laugh out loud tales of life as a 20-something event planner!
Be sure to pay Whitney a visit, I know you will all love her as much as I do!
www.whitney-brooke-blog.blogspot.com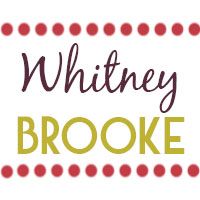 **Due to increased demand, I am raising my blog design prices at the end of this month! Be sure to jump on current prices while they last... as of now a complete blog design package is only $40!!**