Welcome Back!
1. Be sure to follow both Allie & I
2. Grab a button, add it to your post, & link up!
3. Try to visit other participants!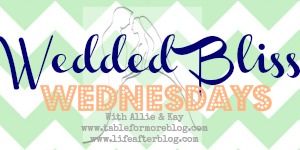 What are you hoping to get for Christmas from your husband this year?
(If your husband reads your blog this can be one GIANT "hint hint")
It's not secret to my husband that all I want for Christmas is for him to clean my car. I mean, deep clean it. This might seem like nothing, but my poor poor car is a PIT. It is covered in cheddar bunnies and spilled coffee. I have at least 3 different coats, 4 pairs of shoes, and a few shirts in there... you know, just in case. It is so far beyond messy that I just can't bring myself to clean it. I just don't want to! So, my dear dear husband can do it for me, it's basically a gift to him because it doesn't require him spending any money :)
Can't wait to read what is on your Christmas wish lists!
Next Week:
What is your new years resolution for your marriage?