A little late... but better late than never right?!
1. Write your posts
2. Grab the button
3. Follow your hosts (Allie and I)
4. Visit other participants!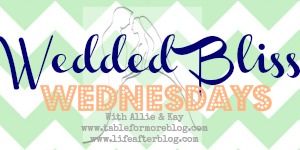 What is a holiday tradition that you and your husband do or plan to do each year? If you don't have any, what is an idea you could try out this year?!
John and I don't have any "original" Christmas traditions. On the actually holiday we are with family, so our family traditions are blending with the traditions we both had growing up. I know that each year we will go to his parents to help them cut down their Christmas tree (we at least attempted to help this year but got rained out...) and that we will spend Christmas Eve partying at my parents.
Christmas 2011
Something that we have done each year (not on a specific date) is watch Love Actually. We have yet to do it this year, but one night we will look at each other and say "Love Actually".
As we have more children and they get older, I hope they look forward to cutting down our family Christmas tree, decorating the tree, and making cookies as a family.
Next week's question:
What are you hoping to get for Christmas from your husband this year?
(If your husband reads your blog this can be one GIANT "hint hint")