Sorry I'm a little late this week... I was too excited about installing Allie's new blog design last night to leave time for writing a post! So I am getting it now, while I should be working (whoops...) I have my FIRST SOLO home visit tonight and to say that I am nervous would be the understatement of the century... anyways... here we are for another WBW!
1. Grab the Button
2. Be sure to follow both Allie and I
3. Follow at least 1 other person
4. Link up your post!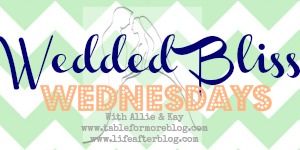 What is your husband's style?
Comfortable, classic, and masculine. John wear dress pants and a dress shirt to work everyday and looks GOOD in it :) He LOVES being able to get dressed up in a suit and tie whenever the opportunity presents itself and I love it! On the weekends? He's a jeans and t-shirt with tennis shoes kind of guy! Shoes are his thing... he's very fussy about his shoes, which I like. I have always had this theory... any guy can have an accidental "good outfit" but if his shoes are bad he has no style. The night I met John he had shoes that went perfectly with his outfit :)

What is your LEAST favorite piece(s) of his wardrobe?
Two word. Puffy Vest (Allie TRULY understands this one...)
If you have a picture show us!!
I know I have a picture of John in the puffy vest somewhere... but I decided not to dig for it (you should be thankful John!) This picture is a really good description of John's style. Nice shirt, Jeans, Sperry's... I mean, I think he looks good :)
What would you love for your man to wear?
Really, I think he dresses great on his own. One day when we have more expendable income I think he will go shopping more and expand his wardrobe :)
For the rest of the holiday season we will be doing themed questions!
(if you have any ideas, leave them! haha)
Next week is one question!
If money were not an option (say, you won the lottery) what would you buy your man?