Happy Hump-Day!!
I hope you are all excited for another week of WBW :)
Be sure to follow the rules:
-Follow both Allie & I's blogs
-Grab the button
-Comment on at least one other link up!
Can't wait to read your posts!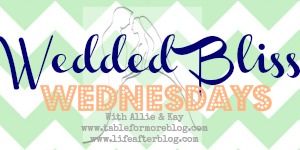 CHILDHOOD EXPECTATIONS OF MARRIAGE!
1. When you were a child what did you imagine YOUR Prince Charming to be like?
Kind, affectionate, and hot.
2. Does you husband match your prediction as a child?
Check, check, & CHECK (ow ow, baby) ;)
3. What about when you were a teenager and knew it all about love, does you relationship match that scenario you had during those rebel years?
I thought love was all about spending every second together, romance all the time, and dramatic gestures of undying affections... in reality, my marriage and love is more about mutual respect, growing together, and working towards building a life. All of the romance and epic gestures are fine, but they aren't an every day (or every week) occurrence, and that's just fine by me!
4. What love movie would you best match your relationship to? Why?
Hmmm... I hope John and I can be like George and Nina Banks from the Father of the Bride movies. Besides the fact that those movies are straight classic.. I don't think they portray an unrealistic story line of marriage. They screw up, they fight, but they grow together and love each other - keeping that romance alive.
Had to find a "Franck included" picture :)
Next week's questions: Your husband as a father/future father:
1. What is/will be your husband's best trait as a father?
2. What is/will be your husband's favorite thing to do with the kids?
3. How does/will your husband help out with the kids?
4. What do you hope your children learn from their dad?