Welcome Back for another round of Wedded Bliss Wednesdays!!!
You know the deal by now:
Grab the button,
link up your posts,
make sure you are following your hosts (
Allie
and I!),
and try to read/comment on at least 2 other posts!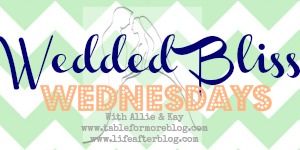 This week it was really nice to hear some nice words from my hubby.
I hope you are all feeling as loved and romantical as I am :)
Words by John, Pictures by yours truly :)
What was the first thing you noticed about your wife?
This is the night that John and I first met. SO drunk confident...
When you first started dating your wife, what kept you calling/asking her out?
Little Mermaid Jokes. Long story here – she's awkward, it made me smile.
What is your wife's best quality?
She demands the best of me, and holds me accountable for my behavior. It makes me a better person. So, I guess her best quality is her ability to make those around her better.
What is your favorite thing to do with your wife (ahem, keep it clean!)?
On a weekly basis? Lazy Sundays, coffee and breakfast, playing with Bubba. All time favorite? When

she allows

we do a Star Wars marathon every year on Father's Day. Every year. Ohhhh yeah.
What are you most excited for the future with your wife?
Dual income. Just kidding - Watching our family grow, putting down roots and becoming part of a community, having friends again… finding or building our dream home, vacations, DIY projects, tailgates, holidays with loved ones, going to PTA meetings, embarrassing Jack… pretty much anything and everything.
How do you make your wife feel loved?
I guess my way of showing love isn't what every girl dreams about – but I try and make Kay feel loved by working my butt off to help at home, making dinner, doing dishes, changing diapers, cleaning floors. Just trying to make life easier. I'm pretty bad about the thoughtful, lovey dovey stuff though. Sorry babe.
Next week's questions: Gifts!
What is the best gift to give your husband?
What is a meaningful gift that you can give that does not cost money?
What is the best gift you have given to him?
What is the best gift he has given to you?
What are you giving this holiday?
P.S. If you haven't entered my
giveaway
... you probably should!! 10 PRIZES with 1 WINNER!
P.P.S. There is still 3 more days to take advantage of my
50% OFF
Blog Design package!! That means a new look for your blog is only
$20
!!