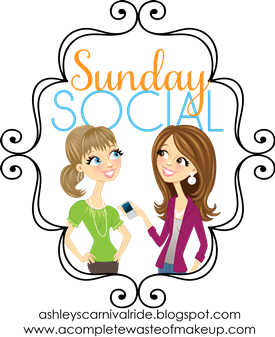 Hi friends! I am linking up with Neely & Ashley again for Sunday Social. This week has a movie theme - not really my expertise but I am going to give it my best shot!! Welcome any and all new friends - so happy to have you :)
Favorite movie of all time?
Beauty & the Beast - yes, the disney one. It's been an obsession since my dad took me to see it in the movie theater. I watch it when I'm sick, when I'm bored, when I'm happy... pretty much all the time. I even watched it in the hospital while I was in labor with Jack :)
Oh man, I'm not a big movie quote person! Most of the ones I like are obscure inside jokes that I have with my sisters, family, or friends. Currently my sister and I cannot stop saying, "Help me I'm poor." in the weird voice used by Kristen Wiig in Bridesmaids. Why we think this is funny? Unknown.
Best movie to watch for a girls night in?
Father of the Bride parts 1 & 2. ABSOLUTELY CLASSIC.
Best breakup movie?
I really have no idea... it's been a while since I've had a legit breakup. I guess when my high school boyfriend and I used to break up I would just pop in The Notebook and eat chocolate and be all full of teenage angst and heartache.
Favorite celeb eye candy?
Currently I CANNOT get enough of hottie mchottness of life, Tom Hardy. WHOA BABY.
Which movie stars closet would you want to raid?
I don't really pay attention to celebrity fashion/style.. I know, I'm weird. I guess I would say... Reese Witherspoon?! I guess I think she always looks really feminine and classic.